One of the joys of the Nissan Cube is it's quirky designs coupled with an abundance of interior space at 53.4 cubic feet (out beating the Kia Soul) while being more fuel efficient then the Scion Xb (2011 comparable engine setup).
Unfortunately, the Cube is as aerodynamic as breakfast toaster from 1965. Stones hit the front edge of the hood quite hard and rather frequently. They also tend to bounce off the hood then spin off of the leading edge of the roof only to skip across the roof like a stone bouncing across a lake. Cube owners take note, those little rust spots at the window will build up and be costly to repair if the window has to be removed. We were lucky and managed to repair the roof without removing the window seals. For the age of the car, this one was in remarkably good shape and painting was always the plan.
If there was a stone chip to be found Steve at Extreme Auto Refinishing was going to find it. The entire car has been sanded down and lightly coated with a coat of Ginger Pearl, followed with several layers of clear coat.
There was some minor rust developing around the wheel wells too which is pretty normal for an older car. Amazingly, only one minor door ding had to be removed.
One other problem spot was around the plastic bumpers. They can trap moisture and debris between them and the adjacent metal panels. This always leads to rust development between the joints. Whimsy was lucky as this was issue was just starting.
Also, like many modern cars, the back quarter panel is actually welded onto the car frame. Being asymmetrical, this is only on one side. It's a huge piece that extends all the way to the front window (see previous photo). This might be great from a production standpoint, but the removal of such a panel is incredibly expensive. Each of the spot welds holding the panel on would have to be removed which takes a lot more labour hours. If there is a bit of rust developing around the wheels, get that fixed asap before the panel has to be removed entirely. I'm glad we just needed to do surface treatment.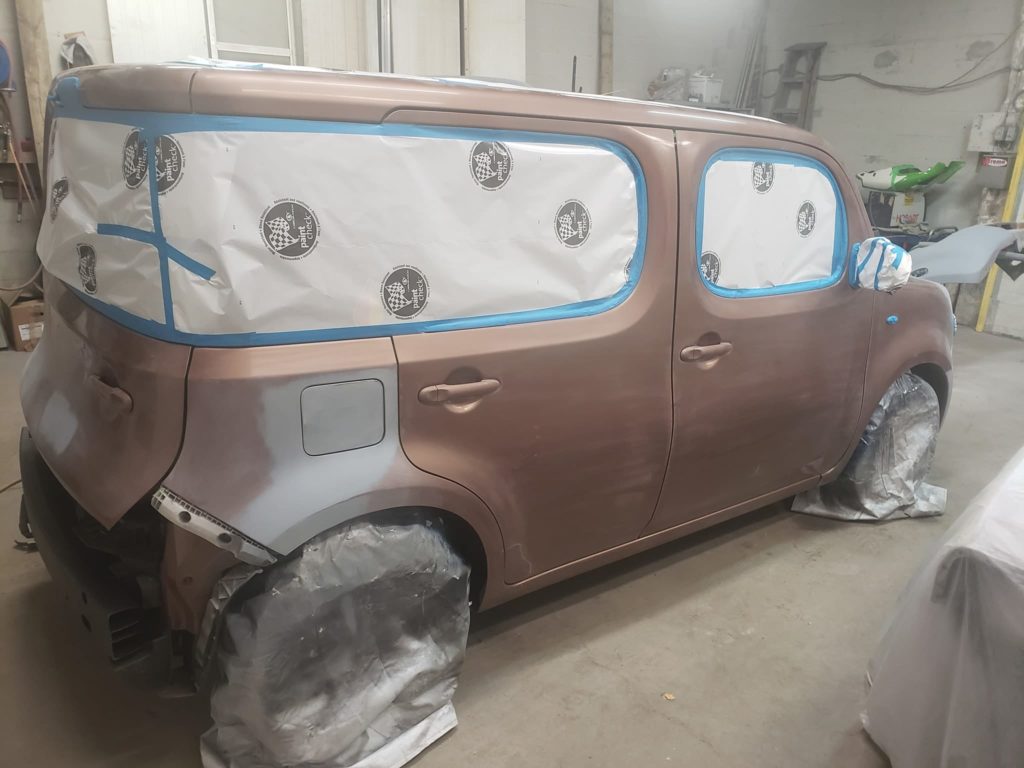 The gas flap cover was also flattened, sanded down, and refinished (Steve didn't tell us he was going to do that too! Thanks!!). There are no more car key marks from past owners trying to pry it open. Seriously, don't use your car keys to open a gas flap, just a gentle bit of pressure in the right space will work if the release spring has broken.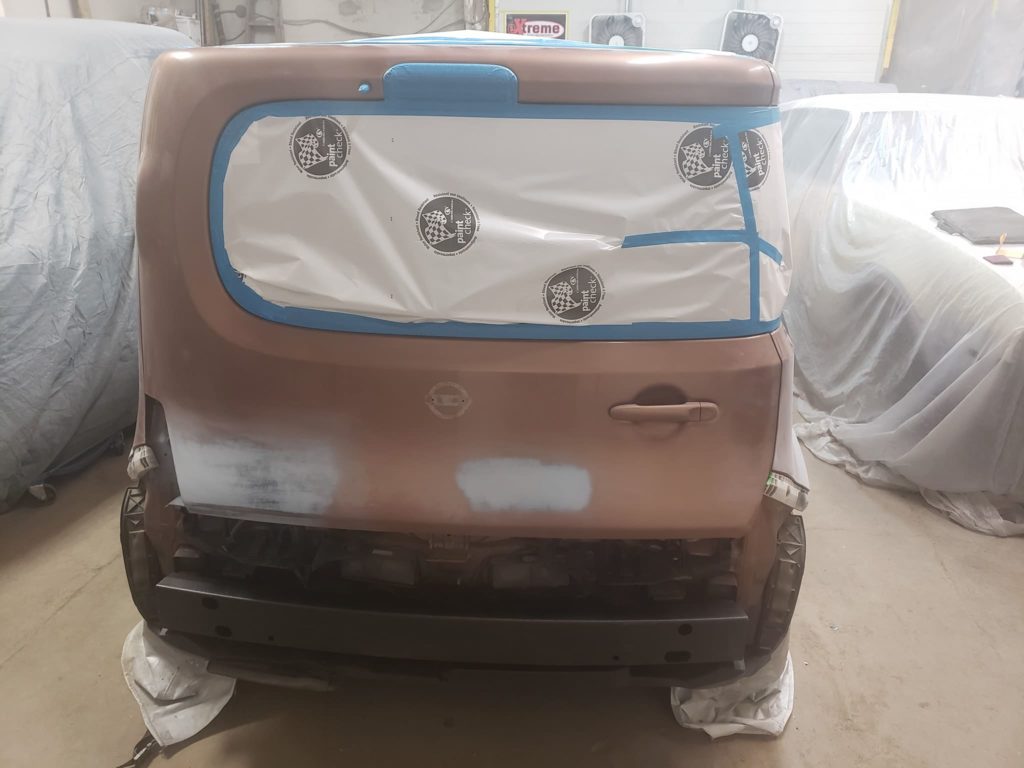 Finally the back bumper needed quite a bit more more work then expected. All faded spots from previous car sale stickers have been removed, as well as a few stone chips that had just started. The the plastic bumper must have had a minor incident at some point in its life as there were several significant cracks. Steve took it apart and completely restored it!
Fortunately, the metal bumper wasn't damaged in whatever accident happened, so that was great news. Much like an old house, the moment you start poking holes into it, you never know what you are going to find.
Steve was meticulous through this restoration process. The back metal bumper was sanded down, sprayed inside and out with black paint, then clear coated inside and out. We may have to do this to the front metal bumper at some point in the future as that was a section of the car we didn't take a part this round. If we do, we will probably remove the engine, clean up the engine bay and add something completely ridiculous.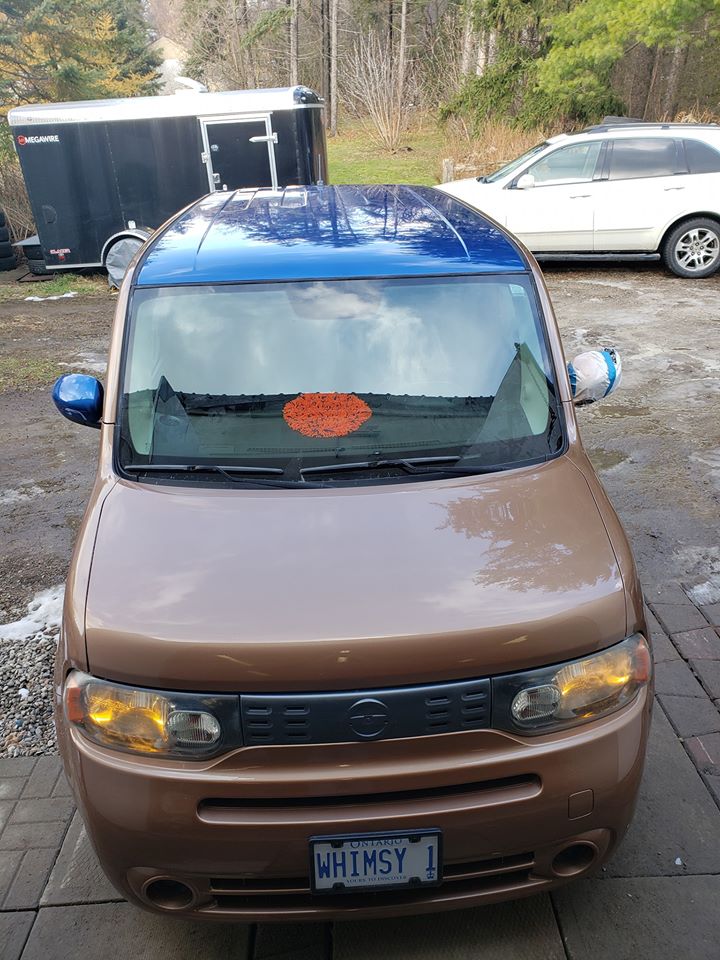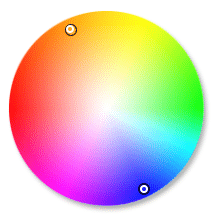 The result is fantastic! We're really thrilled with the stunning Ginger Pearl refinished to factory new! We also decided to change the roof and mirror colours to the complementary colour "Blue Me Away." (The paint pun was free bonus). Unlike the Kia Soul, Nissan Cubes were never painted in two tones of paint, which is too bad as a second colour can really add a personality to a mundane world of often bland car colours.
This car has finally entered into the 'unique' category, but realistically, this is just a hint of what is to come. While some of our Nissan Cube friends may question the colour choice, Whimsy is destined to be an art car, while still maintaining its ability to be a year round company car.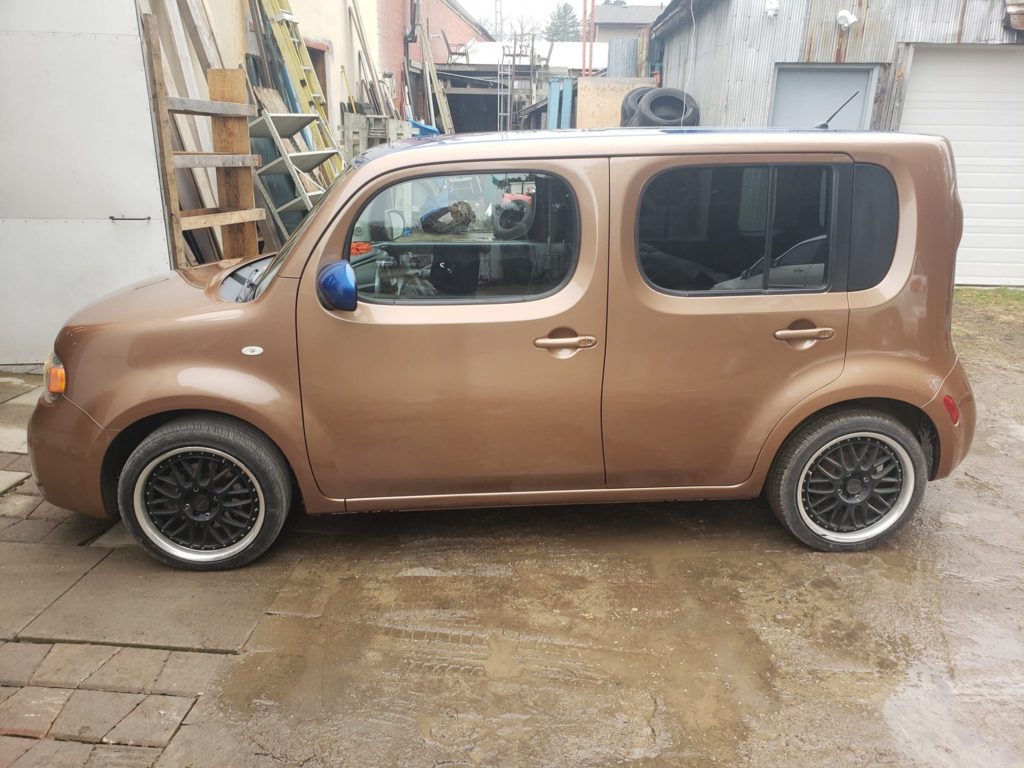 This is the last photo we took with the summer tires on. It pains me that we have to drive in the winter, but we have a plan to deal with that too. More on that in a future post.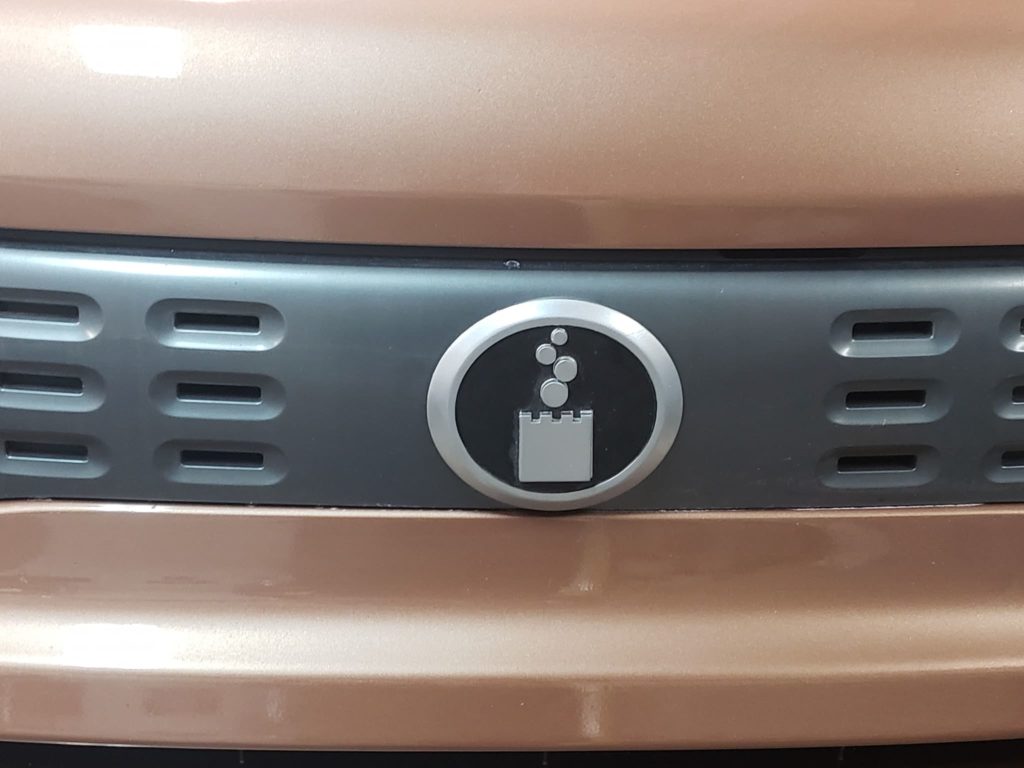 And finally, there's one more added feature: the Nissan Cube logos have been removed and replaced with the company logos instead. Creating these logos was an extensive process and made possible by kwartzlab facilities (Full disclosure: Drew is currently the President of kwartzlab). We will detail both the reasoning and process of designing these new hood ornaments.

There is one last oddity that I have noticed from this process. Whimsy seems to have a small attitude now. I think it is because Whimsy spent several weeks beside two much older classic cars, and at only 10 years old, it appears that Whimsy now thinks it is just as stylish as they were. I dunno what that means, but I guess we will find out if when Whimsy is given the ability to talk.