Drew Ripley – Professional Entertainer, Artist, & Speaker
About Drew
Building a life out of balloons was not the original plan, yet as a full-time artist, Drew has discovered a medium that can stir the emotions and create the unexpected. Ideally, every piece will create a positive memorable reaction. While his art focuses on the balloons, technology rigging, and acting skills are required to create the most difficult projects. As an entertainer, his desire is to leave a sense of whimsy and delight with the audience.
Created in 2009, Drew operates an entertainment company that specializes in one-of-a-kind Balloon Art, Décor, and Entertainment. He uses his finely tuned balloon skills to create one of a kind balloon shows, costumes and displays. His talents have led him to several major projects in Canada, the USA, Qatar, and even Israel. These one of a kind projects are designed for major events and typically use a minimum of 40,000 balloons.
Theatre of Whimsy
Producer & Actor
Waterloo, Ontario, September 2019
A 2 hour variety performance show with guest entertainers from England, the USA, and Canada. Every performance has one rule, they must use one balloon in their act.
Ballonizem in the Wild West
  Costume Designer,
Haifa, Israel, October 2018
Drew was invited to perform for 3 days of entertainment in Israel including a large build, several shows, and 5 custom designed western themed balloon costumes.
Baldur's Balloon Cave, 
Producer, Project Director
Kitchener, Ontario, June 2018
Made for MakerExpo 2018, this world first included a fully rideable and animated for legged balloon dragon puppet.
Sorcerers Serenity
Business Director, World Balloon Conference
San Diego, California 2018
Using over 10 000 balloons, Canada's Twisted Team competed in a competitive 27-hour-straight build against teams from around the world.
Festival City,
Team Member, Airigami,
Doha, Qatar 2017
Working with an international team lead by Airigami, Drew assisted five installations including a Licenced Angry Birds display, at the Festival City Mall in Doha Qatar.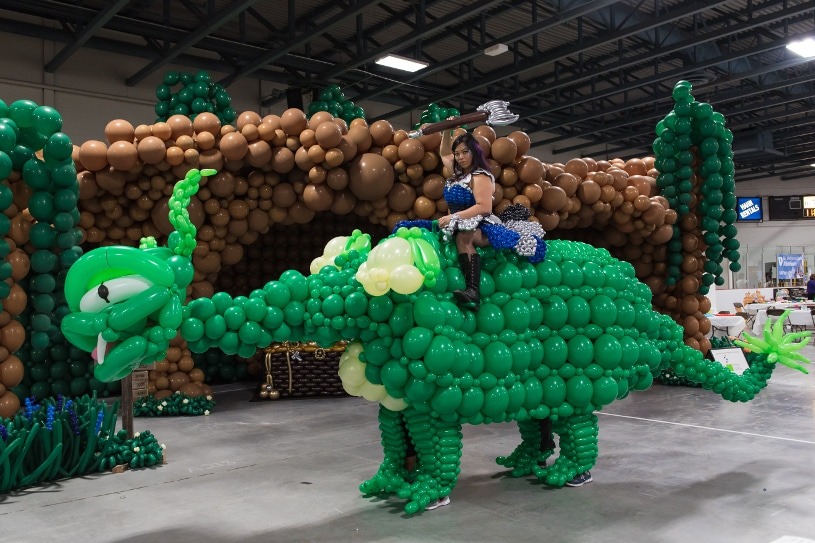 Platinum, Clown, The Record Waterloo Region, Reader's Choice Winner, 2020
Bronze Achievement, World Balloon Conference, 2018 Large Sculpture
Bronze Achievement, World Balloon Conference, 2016 Medium Sculpture